THE MEGARACE
1.001 km nonstop running in the middle of europe. You will run through Germany - Czech Republik and Austria.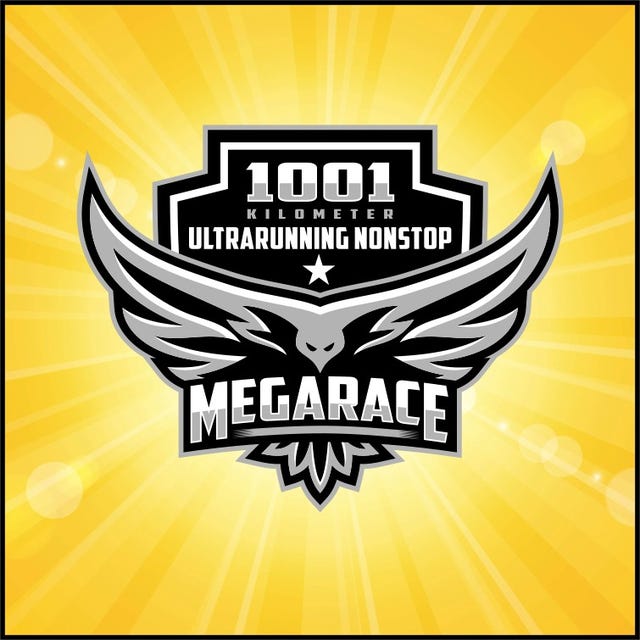 MEGARACE OVERVIEW
"There is no longer race on a marked hiking path on this planet"
We will run 1.001 k nonstop, a really absolute unchanging distance.

Registration & Kit Check: Saturday Sep, 11th 2021 9am to 2pm
Race Brief: Saturday Sep, 11th 2021 4pm
Pre-Race Pasta Party: Saturday, 11th 2021 6pm
Start: Sunday Sep, 12th 2021 9am (Mauth)
Finish closing time: Saturday Sep, 25th 2021 midnight
Finisher ceremony: Sunday, Sep 26th 10am to noon (Gütenland)
Time Limit: 327 hours / 13 days + 15 hours (3,06 km/h)
Average daily kilometers: 74,2
Route: Goldsteig - marked hikingway
Meeting Location: Bayerisch Eisenstein, Hotel Seebachschleife, Germany (Registration/Brief/Pasta Party)
Shuttle Service: Bayerisch Eisenstein to Mauth on Sunday Sep 12th 2021, 7.30am
Starting Location: Mauth, Germany
Finish Location: Gütenland, Neunburg v. d. Wald, Germany
Countries you are running through: Germany - Czech Republik - Austria

With the inscription to the race you will get full services at the following Aidstations & Lifebases:

Aidstations: 10
Aidstations can be used up to 6 hours, runners will find: hot & cold food / hot & cold drinks, snacks, shower/toilet, medical aid, place to rest/sleep with mat/sleeping bag. Aidstations are located in Sport Halls, tents or holiday homes

Livebases: 6
Lifebases will deliver the same services as Aidstations, but can be used up to 12 hours. Lifebases are also Dropbagstations. Each runner has two dropbags which will be transported from Lifebase to Lifebase. All Lifebases are in houses: Hotels or something similar: no mat/sleeping bags - Beds with blankets will be available

You get in addition:
Event Shirt, Badge, Overview map (please order your participant package for free in "THE MEGARACE SHOP" after the first payment is done)
Finisher Jacket, softshell with high quality embroidery
Medal and Certificate
Pre Race Pasta Party
Finisher Ceremony
Shuttle from "Meeting Location - ZWIESEL" to "Start Location - MAUTH"
Transportation from Finish to next Railway Station, only on Sunday, Sep 27th afternoon (noon to 4pm)
Overnight Stay in Gütenland after completing the race (last stay Sat, Sep 26th to Sun, Sep 27th)
GPS Livetracking
Maps & GPS Download
13 days race support
Dropbag Service & 2 huge dropbags to store your equipment
Transportation of luggage to the Finish Location
Ultratrail Trainings Event: invitation to COBRA XT (COsta BRAva eXTrem)
located in spain: Start/Finish Gerona, 140k trail Camí de Ronda
30% discount (not an items "sale")
on any shoppings at our meldelaeufer shop (www.meldelaeufer.de) and on any personal used Starter Tickets (Joker Trail / Hexenstieg Ultra / Moselsteig Ultra), valid from 2018 to 2020 (race start)

Crews: allowed
Starting Fee:
1.090 € (early booking to Jan, 31th 2019)
1.190 € (regular booking Feb 2019 to July 2019)
1.290 € (late booking July 2019 to Oct 2019)
1.390 € (last chance Oct 2019 to Dec 2019)


At registration you have to pay:
490 € (to Jan 31th)
590 € (Feb1 2019 to July 2019)
690 € (Aug 2019 to Oct 2019)
790 € (Nov 2019 to Dec 2019) as a non-refundable deposit.

The second payment of the starting fee is 600 € in any case for all pricings and has to be paid latest March 2020

Registration opens: 01.12.2018
Registration closes: 31.12.2019
At the moment we plan with a maximum of 101 starters.


Go for your dreams and follow your passion!
There is only one chance to run this epic distance: in Sep. 2020